Missions
Clint And Janeth Taylor

Missionaries to Asia
Missionaries to Asia (MTA) operates Bible Training Institutes in Luzon Manila and Mindanao. Students enroll in a three-year program and graduate in pastoral, evangelism, or teaching to work in local churches. MTA works to plant churches throughout the Philippines. They are also active in relief work after typhoons and other disasters. Clint & Janeth Taylor are administrators and overseers of MTA.
Kelly & Cindi Robinette
Missionaries to Cambodia.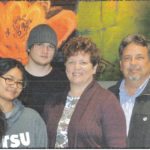 Missionaries since 1987, the Robinettes were appointed first to Thailand, then to Cambodia. They have been involved in ministry to Children-At-Risk through directing an orphanage. The Salaa Hope Battambang Christian School celebrated their very first graduating class of seniors in August 2015. Through the help of One Child Matters they provide sponsorship to the 400+ children and teachers at the Prey Dach government school.
Pastor Fidel Lorenzo

Missionaries to Dominican Republic.
Fidel Lorenzo and his wife, Altagracia, are the directors of Minsterio de Salud Integral Comunitario (MISAICO) in Santo Domingo, Dominican Republic. In addition to church planting, this ministry provides social programs from schools to medical clinics. Pastor Fidel is the coordinator for the Caribbean for Samaritan's Purse's Operation Christmas Child program. He coordinates distribution of shoebox gifts throughout the islands. New Life partners with Pastor Fidel through short-term mission trips and monthly support.
Mission Links
New Life also supports: